Lumio Spas
---
Lumi-O Plug and Play Spa models are unique, and each meets your particular needs for massage, comfort, and positioning.
Whether you are looking for a spa to enjoy the benefits of hydrotherapy or spend quality time with your family, our spa models are designed to be trendy and integrate perfectly into your surroundings with their shape and features all different from one to the next.
---
Fantom Spa
Sku: FAN-110-20-DC
NEW LUMI-O HOT TUB - FANTOM
Just put in place, fill with water and plugin (120V)
POLYETHYLENE MONOCOQUE
LIGHT / TOUGH / PORTABLE
120V OPERATION, CONVERTIBLE TO 240V
NO SITE PREPARATION REQUIRED
4 SEASONS: FULLY INSULATED WITH HEATER
VINYL COVER INCLUDED
---
Stream Spa
Sku: STREAM-32-CG
Stream
The Stream was engineered to combine comfort and roominess. It was designed with multiple seating options for massage variety and to accommodate different body shapes and sizes. It also has an oversized footwell for added leg comfort. The lounger is unique in that it can be used by a single person or with a second person relaxing at the other end. The lounge chairs are extremely roomy, as well, and two are equipped with armrests for added seating comfort. The Stream also has two cool down seats that provide a break from your massage or simply, a chance to cool down a bit without having to exit the spa.
---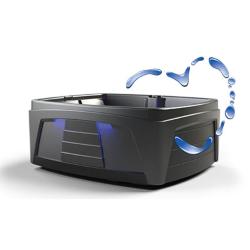 Feeling Spa
Sku: feeling
Feeling
The layout of the Feeling follows a traditional pattern with added versatility. You can relax in either of the two opposing lounge chairs or you can stretch your legs out and lay back in the full length lounge chair. The lounge chair also enables you to swing your legs around, sit up and enjoy a family conversation. The Feeling also contains a step in / cool down seat for easier and safer entering and exiting to and from the spa. This step also doubles as a cool down seat. If total emersion in the water makes you feel a bit overheated, sit on the cool down seat and enjoy the hot water comfort under your terms.
Easy Installation
NO STRUCTURE IS REQUIRED
No site preparation required. Can sit on any well-leveled surface: no wood deck or concrete required.
Polyethylene
MADE IN ONE PIECE
Solid construction & virtually indestructible. No cracking or chipping and easy surface care.
120V Connection
PLUG & PLAY
The Feeling comes standard with a 15', 120V GFCI protected cord that is ready to be plugged into a dedicated standard wall receptacle. It can also be converted to 240V operation for better heating eciency.
---

Share with a friend